Biography & Legacy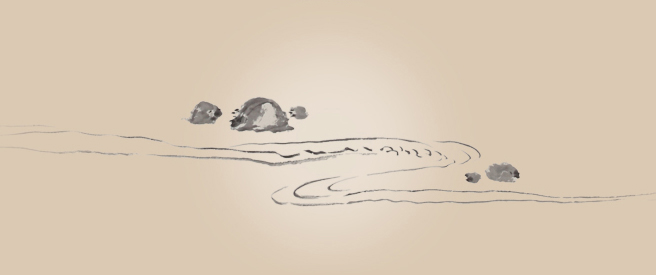 Early Years(1791~1803)
Rengetsu was born with the given name Nobu in the spring of 1791, likely the secret daughter of a geisha and Todou Yoshikiyo, chief retainer of the Iga-Ueno fief. She was adopted as an infant into the Otagaki family by its patriarch Teruhisa (born Banzaemon), a worker (and later a priest) at Chion'in in Kyoto, the main temple of the Pure Land sect of Buddhism (Joudo Shinshuu). Through the agency of her adoptive father and perhaps her birth father, she was sent, at the age of eight or nine in 1798 or 1799 (in the Edo period, children were considered a year old at birth) to Tamba-Kameyama castle as a serving girl, where she stayed until the age of 14 in 1804. There she learned the polite arts, including calligraphy and the game of go. She was a storied beauty, courted by many suitors, a legend that continues to this day.

Years of service at the feudal castle imparted to young Nobu the bearing and manners expected in the children of samurai. Tomioka Tessai made a portrait of Rengetsu as an older nun in the spring of 1877, about two years after Rengetsu passed away, with this inscription: "From childhood she was wise, good at Japanese poems, and learned the military arts." These included the use of sword, spear and sickle and chain. She is also said to have been gifted at dance and sewing. It was there at the castle, among people of rank, that she likely learned classical waka, the 5-line, 31-syllable verse form she used throughout her life as a poet.

In 1803, at the age of 13, young Nobu lost her adoptive brother and mother. So began a thirty year period in which she lost nearly all of her closest family members, most of whom who died young, including at least four children, two husbands, two adoptive siblings and finally her adoptive father.
Marriage & Children(1804~late 1832)
Around 1804, Nobu moved back to the Otagaki family home at Makuzuan, a sub-temple of Chion'in. She is thought married her first husband Mochihisa in late 1807 or early 1808, since her first son Tetsutaro was born in the tenth lunar month of 1808. He lived only a short time, passing away in the eleventh lunar month of 1809 (and given the posthumous Buddhist name Shuusen Douji). Her first daughter was born in the ninth lunar month of 1810, passing away in the twelfth lunar month of 1812 (and given the posthumous Buddhist name Tanshin Doujo). A second daughter, whose birth year is not known, passed away in the sixth lunar month of 1815 (and was given the posthumous Buddhist name Chisen Doujo). Around that time, the marriage with Mochihisa was dissolved, reportedly due to his excessive drinking and visits to the pleasure quarter. Later that same year, Mochihisa also passed away.

In early 1819, at the age of 29, Nobu was married again to a man named Juujirou from Hikone on the shores of Lake Biwa. He was adopted into the Otagaki family and took the new name Hisatoshi later that year. In the sixth lunar month of 1823, when Nobu was 33, he developed a disease in his chest and passed away. With this tragedy, Nobu cut her hair short in grief, renouncing the world to follow the Buddha. Shortly thereafter, she had a ceremony of initiation at Chion'in Temple, becoming a Buddhist nun of the Pure Land sect and cutting her hair again. Her new Buddhist name combined lotus (ren/蓮) and moon (getsu/月)

Yet, the tragedies were to continue. Rengetsu gave birth to at least one child, probably two children, with Hisatoshi. A girl, whose birth name is not known, passed away in 1825 at the age of seven. In his 1962 essay Discoveries from the Letters of the Nun Rengetsu (Rengetsu-ni Shousoku no Shinshiryou), Mamoru Tsuchida mentions one other little boy whose birth name is also unknown, of at least five years of age, who passed away in the first lunar month of 1827, leaving her with only her adoptive father (by then the chief priest of Makuzuan, with the new priestly name Saishin).

So, as a young woman, Rengetsu lost at least four and probably five of her own children. She expressed intense melancholy from these losses throughout her life, perhaps most directly in this poem:

   My children…
    I used to stroke
     their sleepy morning hair
    laying loose upon my sleeve–
     white dew on blossoms of pinks.

Middle Years(late 1832~1865)
In the eighth lunar month of 1832, when Rengetsu was 42, Saishin, the only father she had ever known passed away at the age of 78. Rengetsu, though bowed with grief, considered how she would support herself. Though she was excellent in martial arts and the game of go, being a woman made the prospects of teaching those subjects poor.

So, she began to compose poems, brushing them on thin strips of paper called tanzaku, square sheets of paper called shikishi and brushing or carving them on her pottery. She was forever self-deprecating about her skill and training, apologizing for the "clumsiness" of her works, even when she gave them as presents. Others found the honesty and simple style of the works charming, and given the fine quality of her poems, before long, she had developed quite a following. In humility, she sold them anywhere she could, as expressed in this poem:

   As a pastime
    bringing clumsy
     fragile things to sell
    at Uruma market–
     how lonely!

People from all walks of life came to know of her and sought out her works. She had to move constantly to avoid having her work interrupted by requests, spending most of her time in the Okazaki district near Kyoto's eastern mountains (see Episode 1). By chance or design, many of Kyoto's great kilns (such as Kiyomizu and Awataguchi) were quite nearby. Accordingly, she collaborated with several well-known potters, including Kuroda Kouryou of the Koryouzan kiln and Kinkouzan VI (1824~1884).

Her skill with the brush grew as well. Her delicate linework began to take on a masterful rhythm and reflect the grace and power of her life, presaging the uniquely brilliant calligraphy of her later years. She inscribed the paintings of a great many famous Kyoto painters, especially those of the Shijou School, a line founded by Matsumura Goshun (1752~1811) and Maruyama Okyo (1733~1795). They included Tomioka Tessai (1837~1924), with whom she had a remarkably close relationship, Wada Gozan (1800~1875), Nakajima Raisho (1796~1871), Mori Kansai (1814~1894), Kishi Chikudo (1826~1897), Hasegawa Gyokuho (1822~1879), Shiokawa Bunrin (1801~1877) and Reizei Tamechika (1823~1864).

She also became well known in ecclesiastic circles, traveling to many temples for gatherings and short stays. She was an avid correspondent and we know of over 300 letters preserved in various places (including the three in this catalog, pp. 91, 109, 113).

Rengetsu was also a quiet royalist. She was not fond of the Tokugawa Shogunate and harbored great sympathy for the emperor, hoping that he would again take the helm of government affairs. Above all she was a pacifist, advocating mutual respect and gentle persuasion in resolving conflict. She famously pleaded for restraint with General Shimazu Tadayoshi (1840-1897) on his way to confront the Shogun's forces (see Episode 2). She strongly reproved Ooshio Heihachiro (1793~1837) for his violent rebellion against the Shogunate in her only known chouka (long poem). Yet, she hid at least one other royalist, who had angered the Shogun and was on the run, to protect him from punishment (see Episode 3). Her gentle belief in human goodwill is apparent in this poem, composed around the arrival of Admiral Perry's black ships in the sixth lunar month of 1853 and his return in the first lunar month of 1854.

   Coming
    like spring rain falling
     America shall be gentle
    as moisture to the land
     for the good of our people.

Rengetsu was an avid traveler. Her journeys brought her clay for her work, grist for reflection and, through some unpleasant incidents, inspiration for her poems. It seems every situation was a chance to feel and express, every blossom, animal or person on the road precious to her. Like Matsuo Bashou and some other great poets before her, she accepted the hardships of the road, and the states of her own heart. Rather than push them away, she blended them with the nature she encountered, the seasons, the weather and the atomsphere of new places. The results are poems and artwork that never feel merely clever or decorative, but are infused the spirit of one who has seen and experienced life with her whole being.

As her middle years went on, she began to express, sometimes comically, sometimes wistfully, the difficulties, physical and emotional, of aging. In this poem, she shows her continuing surprise as each new year comes, requiring her, as the custom goes, to eat more beans (one for each year) at Setsubun, a festival around the opening of spring.

   When I saw the beans
    filling my palms
     and spilling out
    I had to wonder:
     Were they for someone else?

In this poem, Renegstu laments the aging of her body:

   How many times must I sleep
    before spring comes?
     I always count the days on my fingers
    but now, at the end of another year
     my back is more bent than they are.

Nishigamo Years (1865~1875)
Finally, at around the age of 75, Rengetsu knew that her long years of travel and constant movements would have to give way to a quieter life. And so it was that the Abbot Wada Gozan (1800~1870), also known as Gesshin (Moon Mind), offered her sanctuary. In 1865, she took up residence in a small hut in the precincts of Jinkou'in (Temple of Heavenly Light), in the small village of Nishigamo, a short distance from Kyoto, where she lived until her passing in 1875. Those ten years were, by far, the most artistically productive of her life. She worked with few interruptions in a remote, quiet, spiritual place, surrounded by pines, birds and lovely ponds. Gozan was an avid painter and fine poet, so there are many excellent collaborations between them. Though desolate at Gozan's passing in 1870, she stayed at Jinkou'in under the patronage of his son, Wada Chiman (1835~1910), until her own passing in 1875.

Rengetsu was great beloved in Nishigamo. For a decade, she had paid special attention to the children of the village, using her resources to alleviate suffering and teaching many. Her passing was cause for great grief among the villagers, who took undertook the preparation of her body for burial.

Legacy
Though Rengetsu's physical life ended in 1875, she left us many gifts. She is remembered as one of the brightest lights of 19th century Kyoto. Even today, the annual procession of the Jidai Matsuri (Festival of the Ages) features a costumed actor playing a ravishing young Rengetsu. Her acts of charity are also remembered, such as the time she and Wada Gozan produced 1,000 images of Kan'non, Bodhisattva of Mercy, and sold them to raise money for flood victims. Her works have circulated widely and been exhibited through the years, for which the priests of Jinkou'in have traditionally served as authenticators. Stories of her swirl through the oral tradition of Kyoto (see the Episodes Section), and legend has it that at one time every family in Kyoto had a piece of her artwork.

Two volumes of her work were issued in her lifetime: A Poetry Album of Two Ladies (Rengetsu Shikibu Nijo Wakashuu), published by Kinbyoudou in 1868, containing 99 poems, 48 by Rengetsu and 51 by her friend Takabatake Shikibu (1785~1881) and A Seaweed Diver's Harvest (Ama no Karumo), published by San'eidou, c. 1871, containing 310 poems. Her poems have received ongoing acclaim, and she is counted among the forerunners of tanka (modern verse in traditional metre) and even the watakushi shousetsu (I-novel). Like those literary forms, Rengetsu's poetry pushes the boundaries of traditional vocabulary, syntax and form, often using the author's own emotional experience as subject matter.

Modern masters and practitioners of tea ceremony continue to use her utensils and scrolls. And recently, her poetry and artwork has reached the international stage. Museums in Australia and the United States have hosted exhibitions of her work and more are planned in Europe, Latin America and Africa. Our Rengetsu Foundation Project has translated all of her known published works and some new poems discovered on works of art. More than 900 poems are available in English and Japanese at our searchable database online (www.rengetsu.org). Plans are underway to translate them into other languages in the coming years, beginning with German and Italian, and add those translations to the database.

In the presence of her work, we believe that her spirit remains accessible. Holding one of her tea bowls, people may feel, with their own fingertips, the impressions Rengetsu left with hers when she molded it. Reading her letter about a garden visit (p. 109) recalls a way of thinking prevalent in human history, but almost gone in this modern age, the assumption that our lives are intertwined with nature. Finally, her poems continue to offer the simple pleasure of verse and the demonstration of a profound idea: that suffering and joy, taken together, give us the capacity to see with love.