Episodes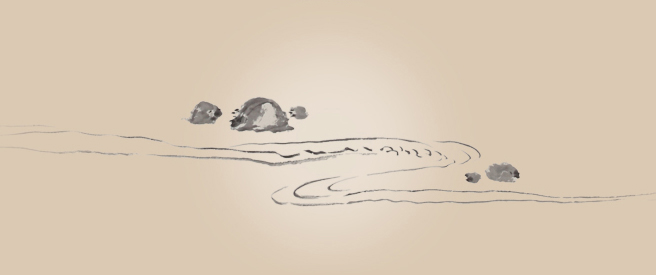 Numerous episodes from Rengetsu's life have been part of Japanese oral tradition since her lifetime. We present 33 of them here. The first, by Kondou Yoshiki (1801~1880), a scholar of ancient Japanese thought and culture, is the forward to a volume of 310 of Rengetsu's poems,
Ama no Karumo
(San'eidou, c. 1871). The second was related to the present author around 2006 by the late abbot of Jinkou'in, Tokuda Kouen (1935~2011). The third comes from a framed story hanging inside the entryway of Rengetsu's hut on the grounds of Jinkou'in. The remaining 30 episodes were compiled by Sodou Murakami in
The Collected Works of Otagaki Rengetsu
(Rengetsu-ni Zenshuu Hampukai, 1927). We hope they enrich the portrait of Rengetsu painted by her poetry and artwork, offering insight into her daily life.
i
Forward to Ama no Karumo (c.1871)
Turning her heart the green of Mount Hiei, rinsing its dust in the flow of the Kamo River, sometimes hiding in the folds of the mountains, others escaping to the pure water, there is a nun who loves waka (Japanese poems) and makes ceramics to support herself. Her name is Rengetsu. For a long while, all and sundry desired her elegant ceramics and graceful waka. She finally grew weary of it and moved to a place a little ways from Kyoto.

Now that I see all her waka carved into wooden printing blocks, I find their number less than expected. Perhaps, as a professional potter, her poetry has become a pastime, and though she composes waka from time to time, she doesn't always think to keep them. So, as editor of this album I have gathered her waka here and there.

When I met her in Kyoto long ago, she already wore a black robe, but had such beautiful eyebrows and hair, that I marveled when she took the tonsure so abruptly and entered the way of the Buddha. These days I visit her hut in Nishigamo. She is an old nun who has lost weight to a disheartening degree and cannot straighten her back. Counting years by bending my fingers, 40 have passed since we met first. I realize that I too have also become miserably old. So, since we are both getting on in years and have been friends in poetry, I didn't want to miss the chance to write this forward.

February 1st, the 4th year of the Meiji Era, in a house near Kamo River…

— Fujiwara Yoshiki (Kondou Yoshiki)
ii
A Secret Guest
Between late 1862 and 1864, the famous painter Reizei Tamechika appeared at Jinkou'in in great need of refuge. A well-known royalist, he had expressed his hopes for the Emperor to return to the helm of government affairs one too many times and had angered the Shogun. As a result he had gone on the run. The third child of Eitai (d.1842) of the illustrious Kano family of painters, Tamechika was a prodigy, and as a teenager had already received acclaim for his work. Accordingly, he had a great many connections in the art world, and used them to evade his would-be captors. Though Rengetsu did not moved to Jinkou'in until 1865, she had a close relationship with the temple, as shown by her letters. Tamechika is said to have spent for two months living there secretly, with no record on the temple register, for fear of the repercussions of harboring a fugitive. The late abbot Tokuda Kouen reported seeing only five such collaborations in his lifetime of studying Rengetu's work. After his departure, Tamechika continued his flight, eventually arriving in Nara and Mount Kouya, where he was caught by Dairaku Gentarou (d.1871) and several other members of the Choushuu clan and put to death at the age of 42.

—Related to the present author by Tokuda Kouen, abbot of Jinkou'in, c. 2006.
iii
Encounter with a Rebel General
During the Boshin War, the forces of Shimazu Tadayoshi (1840~1897) left Kyoto at the vanguard of an army loyal to the emperor, arriving at Sanjou bridge. An old nun appeared in front of the horse the Shimazu was riding. In her hand, she held a poem strip. His retainer, Saigou Nanshuu (Saigou Takamori, 1827~1877), stepped from behind the horse and asked, "Who are you and what do you want?" She answered, "I wish you good fortune in war and would like to give you this poor poem. My name is Rengetsu." She passed it over… and the calligraphy was exquisite.

   Foes and friends…
    whether they win or lose
     how miserable
    since I feel they are people
     of the same land.

Nanshuu read the poem aloud over and over and nodded deeply. He said, "I understand. I will do my best. Please go home without worry. My name is Saigou Kichinosuke." The nun went home happily. It was Rengetsu from Jinkou'in.

It is said that because of her plea, Saigou had a peaceful meeting with the Tokugawa statesman Katsu Kaishuu (1823~1899) negotiating the dispute, leading to a bloodless end to the Shogunate.
1
House-moving Rengetsu
Rengetsu often moved house. An elderly woman, Utako Miura, explained how her husband Matsuhei, a carpenter, always helped her move, arranging lumber to fix up each new house. "Every time Rengetsu moved, my husband Matsuhei went to her and completed the arrangements. She was a determined person, so if Matsuhei didn't appear, she waited intently for him. So, even in the midst of another task, he would quit and go to her. Yes, I remember she moved at least 34 times." So the nickname 'House-moving Rengetsu' is not an exaggeration.

Nishimura Tenshuu (1865~1924) wrote: "She was like an itinerant nun and one could not count her moves. However, she rarely left the Higashiyama area, settling first in Shimogawara, then Daibutsu, Okazaki, Shougoin… and in back of Ueyoshi on Kawabata. Later, she lived for a long while at Nishigamo.

—Related to Tenshuu by Tomioka Tessai

Wada Chiman, abbot of Jinkou'in from 1870~1875 had the same view: "First, she lived Okazaki and Shougoin, and I hear that once she moved 13 times in a year."

Rengetsu wrote a poem about this:

When I was laughed at for having moved so many times…

   Drifting
    here and there
     like a floating cloud—
    a diversion
     before disappearing.

Her moves served two purposes: to keep people from dropping by and to avoid officials of the Tokugawa Shogunate [as she was a royalist].
2
Returning Acclaim
Rengetsu's ceramics became widely popular, in part because Yoitaya, from the city of Niigata, in the Echigo fief, managed to acquire some of her ceramics, which he admired loudly upon returning home. The story he told of "a beautiful woman named Rengetsu, who had entered the Buddha's Way" intrigued many, so for a time Rengetsu was even more famous in Niigata than in Kyoto, where she lived. Eventually, the acclaim from Niigata circulated back to Kyoto, enhancing her reputation even further.

—From a certain magazine
3
Over the Mountains to Shiga
Yoshiyasu Kitamura, later a friend of Sodou Murakami, was friendly with Rengetsu, and they often visited one another. He said, "One day, I visited Rengetsu's house. We were close, so I went right into her living room. The door was unlocked as usual, but I couldn't find her. Wondering if she was taking a walk, I waited by the window, but she didn't come home. Rengetsu had left some rice porridge burning in a pan on the brazier and it smelled strong, so I put out the fire. I continued to wait, but she never returned. At a loss, I locked the doors and went back home.

After a few days, I visited her again. She was home and when I recounted what had happened, she exclaimed: "Actually, I came back just yesterday. I wondered who had locked the doors and taken the pan off the brazier, but had forgotten all about it. So, it was you! On that day, I had made rice porridge and went out to get pickles for the meal. I ran into Rousetsu (Mr. Koyanagihara). He invited me over mountains to Shiga, so I went with him."

—From "Miyako Kijo" by Miyajima Shunsai
4
A Poem for Cherry Blossom Cakes
In the Makuzuhara district of the Higashiyama Ward, there lives an elderly woman called Horiuchi Kane who used to run a tea house offering cherry blossom rice cakes, near Chion'in Temple and Maruyama Park.

She explained that the Horiuchi family once served at Chion'in Temple and were colleagues of the Otagaki family. After the Meiji restoration around 1868, the family lost its stipend and started a teahouse. As they gained prosperity, Rengetsu's name had spread both in and out of Kyoto, to the point that everyone knew of her. They wondered about using her poetry on labels of their rice cakes, and asked Rengetsu if they could. She accepted willingly and wrote this for them on a poem strip:

   Have one!
    Yamazakura
      a name tall as a mountain…
     wrapped in young cherry leaves—
     a rice cake full of heart.

This story shows Rengetsu's refinement. In those days, it was thought that a nun, as one who had escaped the world, should not be engaged with ordinary people. Yet, when Mrs. Horiuchi requested a poem from Rengetsu, she didn't think anything, but simply wrote one, helping the shop willingly, and likely even served tea and sweets to customers. This story shows that she did not concern herself with status or wealth.
5
Rengetsu is Away
Souraku Isogai said: "Rengetsu, unable to move house as often she wished, got an idea. She took a board and wrote Rengetsu is Away, hung it by the door and did her pottery inside. This succeeded at first but, after a few days, the board lost its effect and people resumed dropping in. Sometimes she hung it anyway. After she moved to Nishigamo (in 1865), that board was kept in my house, and though I don't know why, it was lost.

—Related by Souraku, who heard this story from his father.

(Murakami Sodou commented: "Though pretending to be out is never correct, it is nonsense to accuse her of flouting moral rules. We may see Rengetsu clearly only when we reach her level.")
6
"I'm Rengetsu, from Kyoto."
One year, Rengetsu traveled around Oumi [modern-day Shiga prefecture]. One evening, she was worried, since she was a stranger in the area and it had gotten dark and begun snowing. She visited a farmer and asked, "Would you allow me sleep here?" Rengetsu looked so shabby, that despite her being in an obvious bind, the farmer rebuffed her. The family, thinking she was a beggar, asked: "Who are you?" When she reluctantly answered, "I'm Rengetsu, from Kyoto." they were surprised and treated her very warmly.

—From "Shoujo Kagami"
7
Lying Under the Cherry Blossoms
One spring, I visited Rengetsu's house. She wasn't there, and some rice porridge was close to burning in an earthen pan. Straightaway, I removed the pan and awaited a long while. However, she didn't come back, so I went home.

After a few days I visited her. She was there and chatted with me. When I told her about the day I came she laughed and said: "Yes, on that day, I went out to get tofu for a meal. Then I remembered the cherry blossoms in Yoshino, so I didn't come home and went straight there. On the way it got dark, so I asked a person living there to lend me a room to sleep in, but I was turned away. I was in a bind. Finally, I decided to lie down beneath a cherry tree and enjoyed the blossoms very much." And she wrote a poem on kaishi paper:

   Turned away at the inn
    I take this unkindness as grace…
     resting instead
    beneath the cherry blossoms
     on a night with a hazy moon.

—From "Kinko Kawa"
8
Using a Nun Like Rengetsu
The name "Rengetsu" became very famous, so people near and far, tried to get her poems. Her home became like a market, with mountains of poems, on papers square and narrow, all about. Rengetsu couldn't stand it, so she found a nun similar in appearance, brought her to her house and engaged her as her double, while Rengetsu hid elsewhere in Kyoto.

One day, the nun visited Rengetsu and asked: "Every day I write the same poems, and someday someone may realize that I am not Rengetsu. So, may I learn some new poems?" Upon hearing this Rengetsu said: "People are still coming and coming?" The nun answered: "Yes, it is terrible! There are always 300 to 500 poem strips are on the desk!" Rengetsu answered: "What a pity! Well then, I will write them for you. Please bring me the blank cards secretly." So, the real Rengetsu offered to write for her stand-in. Her thoughtfulness was admirable.

—Related by Shimpo Banji in "Joshi Nihon Tokuhon Gehen Dai Ni"
9
Refusal to Publish an Album
When Rengetsu was fifty or sixty, she heard that a publisher planned to issue an album of her poems. She disagreed with the idea and asked me to tell the publisher to refrain. Straightaway, I visited the publisher and found the printing blocks more than half done. If they abandoned the project, they would suffer a heavy financial loss. Further, the master had a personal desire to publish it. Sympathizing with him, I returned and explained the situation to Rengetsu, who stubbornly refused: "I will compensate any losses they suffer. Please negotiate with them again to stop the publication." I was at a loss. Reluctantly, I returned to the publisher and passed on Rengetsu's wishes, but they refused my request. I got angry in the end and said: "You were wrong from the outset by intending to publish an album without the author's permission. She has refused and offered to compensate your losses twofold. Given all that, it is nonsense that you reject our proposal!" With that they were persuaded to give up their plan. It was a difficult matter for me.

—Related by Tomioka Tessai to Nishimura Tenshuu
10
Heaping up Rice on the Leaves of a Cast-iron Plant
One day, my Buddhist friend visited Rengetsu. She willingly invited him to take the best seat and listened to his story of life on Buddha's Path, without realizing that that mealtime was approaching. She didn't have many household extras, so there were no dishes for serving food to guests. After hearing his story, she put a clay pan on the sunken hearth to cook rice and picked citron from her garden to make miso soup, heaping the rice on the leaf of a cast-iron plant.

—Related by Ooshima Tessui in "Chigusa" No.17
11
Unkind Bonito Flakes
A relative of mine, Kondou Shuuei, was a poetry friend of Rengetu's who sometimes visited her. One day, Rengetsu sighed: "Ah, there are troublesome people in the world… one who lives far from here sent a great quantity of bonito flakes to me, a nun who lives only to pray to the Buddha. There were too many to use, so I gave them to my friends, who were very pleased. In turn, those friends gave me eggplants and seasonal vegetables, which piled up like a mountain. I was in trouble again! I managed to employ a person to give them to my acquaintances. So I got two unwelcome favors!"

—Related by Nishimura Tenshuu
12
An Accounts Book at her Side
This is a story from last years of Rengetsu's life, when I was about thirty. One day I visited her home in Nishigamo. As usual, it was full of poem strips and pottery. Sitting and chatting, I noticed a book at her side and glimpsed the word daifukuchou (ledger) on its face, written by her in vivid black. Despite being such a high-minded person and a woman of letters, she had a ledger at her side! An ordinary person of manners would never do this. Such a ledger is usually found at sides of merchants, absorbed with making money, for whom it is as common and essential as an abacus. I felt a mysterious harmony between the ledger and Rengetsu and a heightened sense of Rengetsu's elegance. Even the presence of such an ordinary, base thing seemed innocuous in such graceful hands.

—Related by Murata Kahei
13
A Misbegotten Portrait
When Rengetsu was very old, I thought it would be fine to make her portrait, which I brushed nicely and brought to her. She saw it and said: "Tomioka, what are you doing? Do you intend to ashame me after I die with this portrait of an old woman with a wrinkled face? Your joke is too much!" In this way, I was scolded. It was a great mistake.

—Related by Tomioka Tessai, written down by Tenshuu
14
Disgrace to a Great Personage
One day, a famous person visited Rengetsu house. She refused to meet him. The liaison said to Rengetsu, "This is a famous person." to which she replied: "If I, a shabby nun, appear in front of such a great person, it will bring disgrace to him." She never even looked up and continued making her ceramics as usual.

—Related by Ooshima Tessui in "Chigusa" No.17
15
Men of Rank Have Come!
One year, when Rengetsu was old, Rai Shihou, Kamiyama Houyou and Ema Tenkou visited Rengetsu's home in Nishigamo with me. The members of our party had come from a ways, so I was worried that Rengetsu might decline our visit.

Since she often pretended to be out, I thought it best to visit her suddenly. All of us rose early and went to knock on her door. Fortunately, she was there making pottery. She seemed troubled by our visit and said: "Well, men of rank have come! What do you plan to do?" Only that, and, without any welcome, kept working. We had nothing to do.

Since I had invited everyone and it seemed awkward to stay with nothing to do, I said: "Actually, we just visited Kamigamo Shrine, so I decided to visit you on the way home. To which my companions agreed, saying: 'How lucky! We want to buy teapot or tea bowl from Rengetsu.' and following my lead."

She said: "I see…" and stood up to serve bitter tea. They bought teapots and some other things, and chatted a bit before returning home. Even now, I break out in a cold sweat when I remember this story!

—Related by Tomioka Tessai to Tenshuu

(Murakami Sodou added: To Rai Shihou and the others, it seemed against the spirit of art not to visit her, especially since they were in the area, so they asked Tessai to guide them.)
16
Kouhei Hara's Visit
In April, Meiji 4 (1871), I was in Kyoto and visited Rengetsu in Nishigamo Village. An old maid told me that Rengetsu was out. It was raining, so I composed this poem…

   If I must go back
    without seeing you
     little cuckoo
    it's hardly worth
     visiting you in the rain.

… and asked the maid to pass it on to Rengetsu when she returned. As I began walking back home, the maid ran after me in a flurry and exclaimed: "I'm Rengetsu! Please come back!'

After we returned to her home, she said: "These days, many coarse people come to see me. It gets troublesome, so I lied. I'm sorry to have been impolite." She boiled leaf buds for me, we talked and near noon she offered lunch. She was very kind. When I left her home with ceramics she had made, she gave me this poem…

   If wastefully
    I let you return
     little cuckoo
    you shall sing
     with no one to hear.

… to which I told her how pleased it made me and returned home.

—Related by Hara Kouhei
17
Who can Sell Elegance?
Rengetsu was a kind and merciful person, but had masculinity inside. One day, the vassal of a certain lord was commanded to visit her. He knocked on the door of Rengetsu's house and ordered a poem on a paper strip. After receiving it, he asked how much it was. Rengetsu sat up straight and said: "I have kneaded mud and sold pottery, but never taken money for elegance." and did not look back at him.

—From "Meijo-den"
18
Impoliteness
Before the Meiji restoration, Ishiguro Nabuchi (1817~1890), upon assuming command of his feudal clan, went to Kyoto. Since Rengetsu was a famous poet, he decided to meet her and procure some poem strips as souvenirs. He visited her home, politely gave her a packet of two coins, and requested her some of her new poems. Rengetsu impolitely took two from the mountain of poem cards and gave them to him. He thanked her and received them.

Later, when he looked at them, he noticed they were not new poems, but famous old ones. It was so provoking that he visited Rengetsu again and said: "Today I walked around Higashiyama and composed a rather poor poem. Would you correct it?" and showed her this:

   Taking two rivers
    the Kamo and Katsura
     for boundaries
    and covering Miyako—
     white clouds of cherry blossoms.

As soon as Rengetsu saw it, she immediately searched her poem bag and wrote her newest poems on paper strips, saying "Please give me back the other poems," and apologizing for her impoliteness.

—From "Kinko Kawa"
(Murakami Sodou added: This story suggests that this poem, though attributed to Rengetsu, may have been composed by Nabuchi.)
19
Mosuke's Confession
There was a man who lived west of the intersection of Sanjou and Karasuma. He was a courier to and from the Mino region named Mori Mosuke. Deeply moved by Rengetsu, he became a person of some refinement. He composed poems, planted plum trees in Saga on the banks of the Ooi River, and received the poetic name Baioku from Shinten'ou (a nanga painter, 1822~1885). An interesting person indeed. This is the story of scolding by Rengetsu that transformed his character.

When Mosuke was young, he frequently traveled between Mino and Kyoto. In those days, it was said that Rengetsu was famous along the Toukaidou, Nakasendou, Hokuriku, San'in and Chuugoku highways. Orders for her poem strips and ceramics came regularly from Gifu, Oogaki, Hikone and other places along those routes. At times he worked only to fill them.

One day, Mosuke had a typically large number of orders. He went to Rengetsu's home, requested poem strips and ceramics and paid for them. Then he thought: "I have to come here in vain again and again (since Rengetsu often pretends to be out). So, I'll make up a deadline."

And he lied: "Rengetsu-san, this order is for the celebration of a new house in Kusatsu, and the customer needs your poem strips in time. I'd like to get them two days before the celebration. Is that possible?"

Folding her fingers, she counted the days and said: "Mosuke-san, I'm already old, so it would difficult for me to make so many poem strips by then. However, you might be scolded by the customer, who needs my poem strips at his celebration. The plan is already made, so this time I will do my best to meet the deadline, but will not accept orders with a deadline after this."

Rengetsu took his story seriously, so Mosuke thought: "Well, I will surely be able to get the poem strips" and went home. However, because it was a lie, Mosuke forgot their agreement and, after seven or eight days, visited her house and said: "Hello, Rengetsu-san." She was making pottery, but as soon as she saw his face, she got angry, stopped her work and shouted with a trembling voice: "My goodness, how cruel of you to deceive this old woman!"


She was in tears, shaking and angry. Since Mosuke had entirely forgotten their agreement, he didn't understand why she was so upset. He knew that Rengetsu was a kind woman, so he was very surprised by the situation.

Rengetsu continued: "You said you would surely come on the appointed day. I had written day and night with great pain and awaited you with the packet of poem strips, but you didn't come. While waiting, I had to go out, so I asked about you in the temple. When I came back, you still hadn't come. After that, every time I heard footsteps I thought you had come. Do you know how long I have waited? It was cruel of you to deceive this old woman!"

Now that Mosuke understood clearly why she was angry, he regretted having lied to her. However, since only saying sorry did not seem enough, he reluctantly lied again: "Oh no, Rengetsu-san, you are right, but please listen… I have a daughter, 13 years old. The night before the appointed day, she got high fever. We had to call a doctor and get medicine. In the end, even the neighbors came. It was a great fuss! My wife and I didn't sleep at all in order to take care of our daughter. So, I must apologize to the customer in Kusatsu, and you, too. Would you forgive me?"

Rengetsu changed her mind straightaway, saying: "Oh, Mosuke-san! It is my fault, it is my fault. Please forgive me, please forgive me. I was wrong to be angry. I didn't understand the situation. I mistakenly thought you had misled me, this old woman. I'm sorry, I'm sorry. Please forgive me, please forgive me…" She apologized over and over, putting down her head on the straw mat and crying. Then she asked: "And how is your daughter? Already better? Please, tell me quickly!'

Mosuke replied: "Thank you. Luckily, she was saved, and is fine now, so I was able to come here today." "Oh, I see, I'm relieved," Rengetsu replied. "In the old days, I also took care of my children when they became sick. Some of them died. Your wife must have been terribly anxious, wasn't she? It is good that your daughter got well. It is good…"

Then Rengetsu searched around her house, and gave him a wrapping cloth full of medicine, cakes, sugar and so on. "I'm sorry, these are only what I have on hand, but please take them and give them to your daughter while she recovers. Maybe the situation is resolving itself, but it is said that the best thing for disease is simply care. Please take great care of her." After she spoke, Mosuke took the goods and his leave. Rengetsu saw him off, saying: "I'm sorry! I'm sorry!"

On his way home, Mosuke thought to himself: "My god… again I cheated a woman who is like a goddess… how sinful I am! I won't be forgiven. I will never tell a lie again, even one as small as the tip of rabbit's hair. Oh, Gods and Buddhas please look down on me, please forgive me…" In this state he returned home, confessed his lies to his wife and was in tears all through the night.

Later on, Mosuke got another order and visited Rengetsu. While thanking Rengetsu for her consideration, she interrupted him: "Oh, Mosuke-san, I've been waiting for you. How is your daughter? Is she getting better?… Oh, I see. That's good. I'm relieved."

She didn't pay any attention to what Mosuke was saying and prepared a meal for him. The way she treated Mosuke was not as before. As he was leaving Rengetsu's house after filling his order, she took a paper packet from closet and said: "Mosuke-san, I bought this for your daughter. Please take this home and give it to her. It's a little gift for her and an apology for my misunderstanding."

Mosuke felt even sorrier and tried to decline her offer, but she insisted. He received it reluctantly and returned home. He and his wife opened the pack, and were surprised. It was a sash made from the best dyed crepe, an expensive one. His daughter was very pleased, but Mosuke and his wife felt very sorry.

Some days later, they visited Rengetsu to thank her for the sash and brought an expensive present. Rengetsu seemed troubled and said: "Mosuke-san, it was my mistake not to tell you. I'm happy just when I give something to others and they feel pleased. This time I shall accept your present, but please don't continue giving me such things… I won't accept them. By the way, did you give that sash to your daughter?' "Yes. As soon as I got home, we looked at it and were surprised by how fine it was. I called my daughter straightaway and said, "This is a present from Rengetsu-san," and gave it to her. She was very happy and kept it with her all day.

After listening to Mosuke, Rengetsu said, "Mosuke-san, I'd like to see your daughter. When you come next time, would you bring her along?" to which Mosuke agreed.

However, his daughter was healthy and fat, and seemed never to have been sick. This worried Mosuke, so when he brought his daughter to Rengetsu's home, he told her again and again that Rengetsu had given her the sash because she had been sick and to thank Rengetsu her accordingly.

Rengetsu believed that the girl had been sick, so, upon seeing her, exclaimed: "Oh, you've recovered very quickly! Good girl!" She treated her with the love she would give her own grandchild. She also gave them some gifts, reminding her parents over and over to watch after her. Mosuke and his daughter thanked her many times and left the house.

—Related by Mosuke to the elder Saigyou'an Shoubun

(Murakami Sodou added: This experience so transformed Mosuke that he became a new person, eventually receiving the name Baioku (Plum Hut). This is the best episode from Rengetu's life. It shows her true character. Her generous mind was sometimes stormy, but was otherwise full of blue sky and the sun, or… if you'd rather… breezes and bright moon.)
20
Treasure is Harmful, not Useful
One day a feudal lord named Mouri visited Rengetsu's house and she served him tea. He offered to buy some of her poem strips and ceramics, received them and returned home. The following day he had a messenger bring her a gold coin and some bags of sugar as return gifts. However, she took no notice of the gold and said: "Thank you for your favor, but treasure is harmful rather than useful for us nuns. I am sorry." and accepted only the bags of sugar.

—From "Chuuou Shidan"
21
Fair Value
One day Kido Takayoshi (1833~1877) visited Rengetsu's house, had a talk with her and was given a poem strip and a ceramic. Before leaving, he offered an envelope of money in return. After he had left, she opened it and was surprised to find a large sum inside. Straightaway, she made another clay vessel worth that sum and sent it to him.

—From "Mizugame" by Yumoto Kisaku
22
Great Artists' Work
Certain great painters and calligraphers gave Rengetsu pieces of their work, many written on half-sized papers, as gifts. She hung them rather roughly, directly on the smoky wall, and enjoyed them. After a few days, she took them down. How did she treat them? She pasted them on a woven basket that covered the brazier she used to make ceramic wares.

—From "Kouko Kaishinroku"
23
Refusing a Vermilion Sheath
One day, a samurai, two swords standing in vermilion sheaths and hair in a topknot, visited Rengetsu's home. He was a little drunk and proposed buying some of her poem strips. Rengetsu said: "These days, the world is not safe. If I were a man, I could become your companion and serve Japan, even if it were just a little bit. However, I'm an old woman as you see, so I can't. I'm disappointed by this. And if you buy my poem strips, would they be any use to you? It would a shame. Anyway, I don't have any poem strips written at the moment. Someday, I'll make some for you." In this way, she declined the offer.

—Related in a letter by Wada Soujou
24
Scolding a Priest
One day, a priest visited Rengetsu and offered to buy some of her poem strips. She said, "Please use your efforts on good teachings for yourself and others. Why do you want to buy a poem strip from this old woman? It's a shame. Anyway, I don't have any poem strips written at the moment. Someday…" In this way, she declined the offer.

—Related in a letter by Wada Soujou
25
A Coffin is a Rice Chest
There was a wood dealer who often came to Rengetsu's house. One day she said to him: "If you have any scrap boards, please give to me." He asked: "What will you use them for?" Then she smiled and said: "That is a good question. I'm already quite old and don't know when I will die. I plan make a coffin for that day." The dealer listened and gave her what she wanted. It came easily for him. Anyway, the coffin was used as a rice chest while she was still alive.

—Related by Tessui Ooshima in "Chigusa" No. 17
26
Widely Striped
One day in summer, Tessai visited Rengetsu, in Nishigamo. She was wearing light cotton robe, not her usual way of dressing. She seemed younger. Tessai thought it strange and said: "Your robe is rather vivid today! What's going on?" Rengetsu answered, "Oh, is this so vivid? I didn't pay any attention. Since it was the most suitable [for the weather, perhaps] and seemed strong, I chose it."


—Related by Tanaka Shin'ichirou who heard it from Tomioka Tessai
27
Giving All Five Ryou of Gold
In the book entitled Shigarami, Kingetsu wrote an interesting story of Rengetsu… When she was a disciple of Keibun, so she showed talent at painting. She was good at the game of go, and her skill in the halberd was outstanding.


Once a certain lord from Chuugoku visited her house, and, while taking his leaving, offered her five ryou of gold for the tea she had served. Rengetsu tried to decline, but he insisted. Later, his horse fell into a paddy near her house, so Rengetsu gave the money to the peasant who owned it for repairs.


—Anonymously reported in "Waseda Bungaku"
28
Giving All Five Ryou of Gold
In Kyoto, there was a craftsman of sliding doors called Shiun'an. He thought of Rengetsu as his teacher and enjoyed visiting her when he was free. One year, during The Festival of the Departed, he visited her house in Nishigamo with two shu (a monetary unit) he intended to give to Rengetsu as an offering of respect. While they were greeting one another, three or four children who lived in thereabouts came up to them. They addressed Rengetsu: "Teacher, please give us an offering for Jizou-san (the guardian deity of children)." Rengetsu said: "Alright, please wait a minute" and turned to her purse. However, there were few coins, so she searched her house, but to her surprise, there was no other money. Shiun'an saw this and said: "Excuse me, Rengetsu-san. Today, I have money to give you as an offering for your daily teachings." and passed it to her. Rengetsu saw it, smiled, and said "Oh, really? Now let's give it to honored Jizou-san." She thanked him and gave the children all the money. "Here you are. I'm sorry to have kept you waiting." The children received it and took their leave. Shiun'an was surprised at Rengetsu's indifference to money, and often told this story.


—Related by "Chikashige Masumi"
29
Not a Few Coffins
Rengetsu always had a coffin with a white shroud inside, ready both summer and winter. She prepared it in order not to trouble anyone when she died. On the white shroud, she had written…

   Not even a cloud
    small as a mite of dust
     upon my heart―
    today I wane
     with the sky at dusk.

She had composed this poem many years before, seeming to prepare herself for passing. However, she lived long, and when a poor person died, she always gave them her coffin. All the villagers knew this, and when the time came, someone always said: "You! Go to Rengetsu and get a coffin." Only in Nishigamo were so many people given coffins when they died.

—Related by Priest Wada
30
Rengetsu on White Cloth
When Rengetsu was seventies, she made a wrapping cloth from white fabric, on which she asked me to draw moon and a lotus flower. After I did so, she folded the cloth and put it away. At the time, I wondered what she would do with it, but soon I forgot it. When she died, the villagers washed her body and wrapped her with the white cloth. I noticed there was a poem she had written for her passing…

   My hope
    finding a way
     to behold
    the cloudless moon
     upon a lotus blossom in the next world.

Then I understood everything. She wanted to live and die in keeping with her name. In this world and the next, she hoped to be clean and honorable… and this hope was not a casual idea, but one she held for many years in preparation for her passing.

—Related by Tomioka Tessai